BAD BREATH TIMER
Our interactive Bad Breath Timer alerts you to the key moments when bad breath can potentially strike. Simply hover over the hours on the timer graphic to reveal bad breath alerts.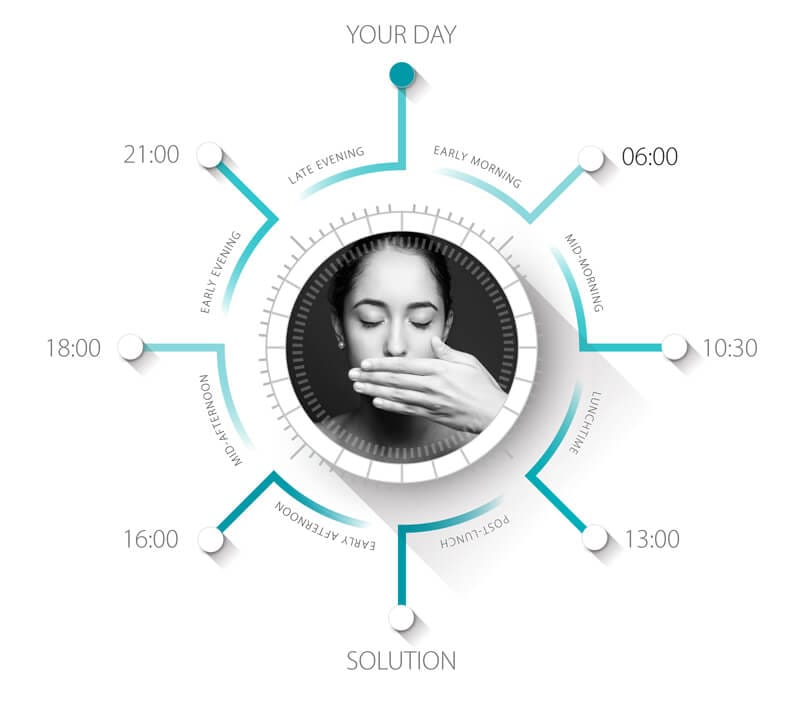 Breath Statistics
Here at UltraDEX we've surveyed 2,000 of the British public to find out where people are going wrong when it comes to bad breath.
Reported having the worst smelling breath of the day when they wake up.
Almost half of those surveyed use mouthwash at least once a day
Fewer than half of respondents realised coffee was a cause of bad breath.
Of those surveyed were unaware that they may have the worst smelling breath just before lunch.
Recognised that garlic was most well-known cause of bad breath.
Rely on regular chewing gum after meals to top up oral freshness, which isn't effective at actually eliminating bad breath compounds.
Did not realise that giving a speech, presentation or team talk could result in bad oral odour due to potentially dry mouth.
Bad Breath Triggers
Never skip a meal, as food stimulates saliva production to help clear bad breath bacteria.
A blocked nose due to a cold or talking a lot, can also lead to a dry mouth and bad breath.
Odorous sulphur compounds in foods like garlic linger in your mouth and are expelled when you exhale.
UltraDEX - Your fresh breath protection
Leading dentist Dr Mervyn Druian comments "I think of UltraDEX toothpaste and daily oral rinse as my everyday 'bad breath' SPF. It's a part of my routine which gives me peace of mind all day about having fresh breath. I then tackle any mid-day attacks with the UltraDEX Fresh Breath Oral Spray - similar to putting on a sun hat on the beach!"
WHERE TO BUY PRODUCTS